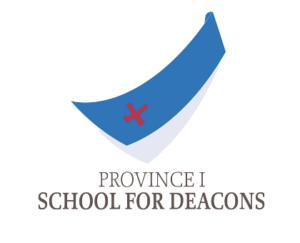 The Province 1 School for Deacons offers a 24-month program focusing primarily on the academic aspect of formation with practical application for the Diaconate in keeping with the requirements set forth in The Constitution and Canons, Title III, Canon 6, and the Association for Episcopal Deacons Competencies (https://www.episcopaldeacons.org/uploads/2/6/7/3/26739998/cmptnc17rv1-18.pdf).
The student population generally consists of Deacons-in-formation in any of six collaborating dioceses: Connecticut, Maine, New Hampshire, Rhode Island, Vermont, and Western Massachusetts. Bishops and Archdeacons or Canons for Formation refer students to the school from their respective diocesan discernment processes.
Administration, Faculty and Curriculum
The school administration and curriculum are overseen by the Province 1 Executive Committee and guided by an Advisory Council of members from all six collaborating dioceses. Faculty consists of a Dean assisted by two Deacon co-facilitators and scholar-lecturers in each of the online courses. The class schedule follows a quarterly calendar pattern of two month-long courses including reading assignments, online lectures with discussion, and written papers, followed by a quarterly Formation Weekend retreat:
• Hebrew Bible and Christian Testament courses are followed by a retreat on the Prophetic Voice of the Deacon.
• Theology Parts I and II courses are followed by a retreat on the Theology of the Diaconate.
• Church History and Anglican Tradition courses are followed by a retreat on the Anglican Diaconate through History.
• Faith-Rooted Organizing Parts I and II courses are followed by a retreat on the Deacon as Community Organizer.
• Liturgics Parts I and II courses are followed by a retreat on the Deacon in the Liturgy.
• Ethics Parts I and II courses are followed by a retreat on Integrating Ethics in the Diaconate.
• Homiletics Parts I and II courses are followed by a retreat on Living the Life of a Deacon in the Pulpit, the Parish and the World.
• World Religions and Spirituality courses are followed by a retreat on Self Care and Maintaining a Vibrant Spiritual Life.
Independently, each of the school's six collaborating dioceses may offer or require field education in a parish or community setting, Clinical Pastoral Education (CPE) or an alternative, safe church training, cultural competency and anti-racism training, Title IV and mandated reporting training, and a capstone project/portfolio.
Formation Weekends
Students, Dean, and co-facilitators gather quarterly at a retreat center, usually Friday afternoon through midday Sunday, to conclude each two-month academic module. Participating students officiate and preach at worship services during the Formation Weekends, with ample feedback on leading worship and preaching. Time for evaluation of each segment of study is given at the end of each retreat. Due to COVID-19 safety protocols and restrictions Formation Weekends are being held virtually at present.
Tuition
Student tuition is $2,000 per year for the 24-month program (subject to annual review and change). Dioceses remit student tuition to the school and each diocese may have its own funding formula/requirements. For example, some dioceses contribute 1/3 and ask the student and sponsoring congregation to contribute the other 2/3.
Charisms of Program
Rolling admissions enable students to enter at the beginning of any quarterly cycle throughout the year. Confidential safe-space check-in time with an ordained school graduate is offered evenings prior to online lectures. The school Dean is readily available to students as a resource and for consultation via phone, email and/or online conference. School alumnae value the ongoing collegial companion support groups and relationships that form during their two-year school experience and continue indefinitely beyond graduation.
Contact
The Rev. Dr. Lynda Tyson, Dean
Province 1 School for Deacons
dean.deaconformation@province1.org