In January 2023, Province 1 awarded the first of its Coming Together in Hope and Healing grants to the Sewing Seeds for Hope Afghan Women's Program. Copied is a short description of the program from its grant application:
When Afghans working alongside the US Military were evacuated, volunteers from four Province 1 Episcopal churches joined together to support Afghan arrivals in New Hampshire and Massachusetts. Initially providing meals and clothing has led to broader goals: building community and self-sufficiency for Afghan evacuees. We conduct women's and men's programs, English, community and children's educational activities. We have established Sewing Seeds, an income generation project for Afghan evacuee women to produce and sell sewn items. Seed funding from Province 1 will support a pilot project to establish a business model which will enable the program to expand and become self-sustaining.
Last month, we received an exciting report from this program. Copied below is the report, and attached is a short flier introducing the Afghan women artisans who are a part of this program.
Dear Province 1,
We would like to provide an update on the Sewing Seeds project, which you funded under the Coming Together in Hope and Healing program in January 2023. Sewing Seeds, an income generation project for Afghan evacuee women to produce and sell sewn items. The grant funding was intended as seed funding to initiate the project.
Since the grant award, we have recruited 3 Afghan women artisans from New Hampshire (bios attached) who have been sewing items that are of interest to American customers. To date, they are producing pillows, cosmetic bags, jewelry pouches, aprons, baby blankets, baby quilts and scrunchies (pictures attached), with new items added every few weeks. Seven volunteers have joined, who are assisting the women with acquiring fabric and supplies, demonstrating how to make items, holding sales and accounting. A graphic designer created a logo pro bono for the business and advised us on promotional materials and website. A domain name has been acquired and web design is in progress. We are also working on incorporating in New Hampshire and have set up tax accounting procedures with the help of a tax lawyer working pro bono.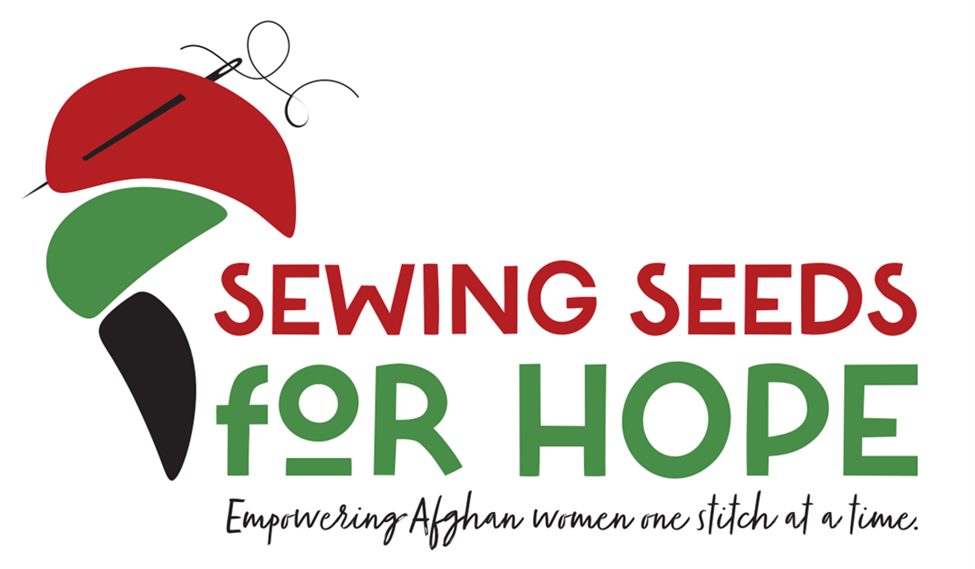 To date, we have held more than 15 sales, primarily at church coffee hours in New Hampshire and Massachusetts, but also at mosques and craft fairs, one store, and several commissions to produce individual or bulk items. The sales have been universally successful and we have multiple requests for repeat sales events.
Sewing Seeds is currently generating at least $500 per month for each of the artisans, a significant sum to families living near the poverty line. The benefits are far greater than finances alone. It is an understatement to say that Sewing Seeds is transforming their lives. The women feel so much sense of purpose in creating useful items for sale. The proceeds are essential for helping their families become self-sufficient. They enjoy sewing together and help each other problem-solve (picture attached). The women are so incredibly proud to call themselves BUSINESSWOMEN, and their husbands and children are proud of them as well. Being businesswomen brings a new sense of urgency to learning English and math. One woman's goal is to send just a few hundred dollars of money she earned to help her mother in Afghanistan. Another woman simply enjoys being able to make decisions on grocery and household purchases with her own money. The project is helping the women realize their potential and their capability to have agency in their lives.
Up to now, products have been made using donated fabrics supplemented with fabrics and supplies purchased using grant funds. By fall, the three women artisans will be ready to transition to a self-supporting model with sales proceeds used to purchase supplies. Due to the success of the project, we plan to expand the number of artisans over the summer, to be ready to add to sales in the fall. We have several large fairs lined up over the summer and fall, including the juried Codman Estate Arts & Crafts Fair in Lincoln, MA. Our next two artisans are Amina and Mujahida, who live in Lowell, MA. Two additional women, Zarghona and Shabina, in New Hampshire, are also interested in joining. As word spreads, the number of women interested in participating is sure to expand further, limited only by volunteer time and start-up funds. We truly appreciate your support.
All the best,
Hansi Dean